"Spread your Research" - Digital self-presentation and visibility in science
18. Oktober 2022
10:00 -18:00 Uhr
Herrengarten AH A 217/18 & online
For students, PhD students and post-docs
Following the motto "Spread Your Research", the Women's Networking Day 2022 addresses the possibilities of digital self-presentation and visibility in academia. This year's Women's Networking Day brings early career researchers of all career stages (female students, PhD students and postdocs) together to open networking opportunities and to provide career-relevant topics and skills. The program offers a keynote and workshops with experts from different fields, spaces to network and share experiences. In addition to external experts, university partners and senior colleagues in positions relevant to the young female researchers are also invited in order to share "in-house" information and encourage networking opportunities.
This year's Women Networking Day is a cooperation of the two Collaborative Research Centers 1472 "Transformations of the Popular" and 1187 "Media of Cooperation".
Please sign up for the event via juliane.biewald@student.uni-siegen.de and add at which workshop you want participate.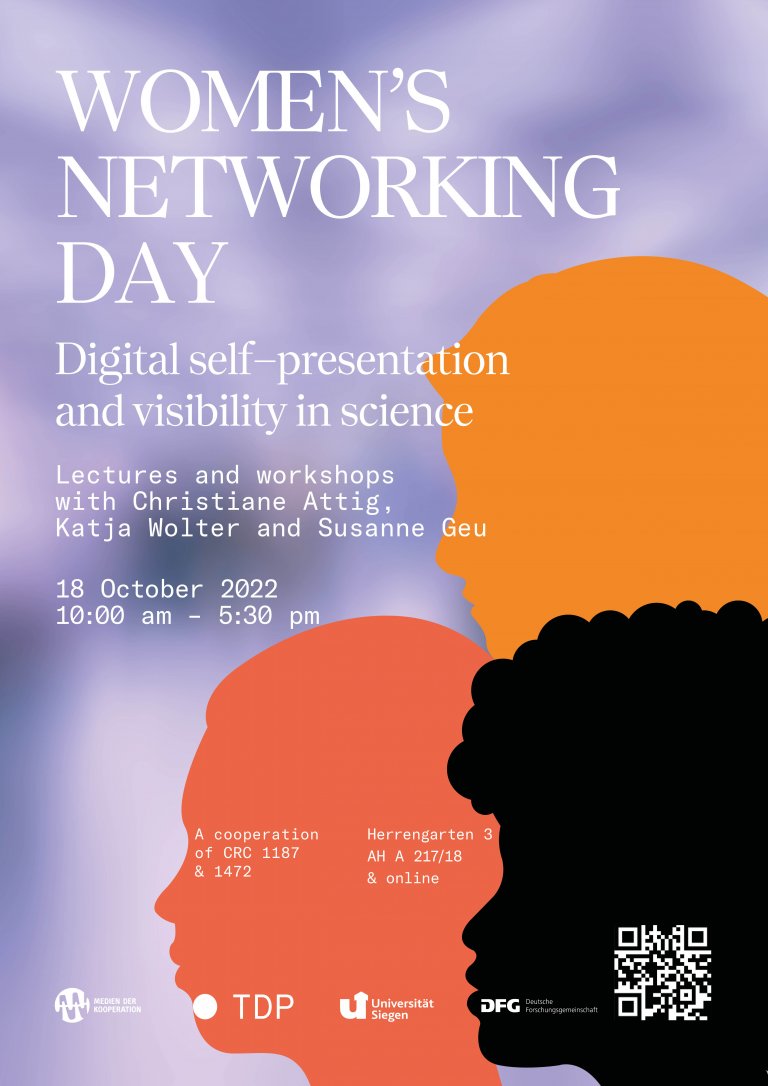 Welcome
Dr. Rebecca Weber
(Refe­ren­tin für geschlech­ter­ge­rechte Karriere)
Keynote
Chris­ti­ane Attig
(Chem­nitz)
In-House Networ­king with Dr. Susanne Padberg / Alumni-Services
Work­shop-Sessi­ons, Online
Work­shop I (in English)
Katja Wolter
(Stein­beis Insti­tut)
My visi­bi­lity as a scien­ti­fic expert for recrui­ters on Linke­dIn & Rese­a­r­ch­Gate
Work­shop II (in German)
Susanne Geu
Tweet your science – Twit­ter in der Wissen­schaft
Keynote Christiane Attig (Chemnitz): Podcasting – The new royal road for communicating science?
By far the most successful podcast in Germany, NDRinfo's "Das Coronavirus Update" is a science podcast. The team around the two virologists Christian Drosten and Sandra Ciesek has proven the enormous potential of podcasts for science communication – because podcasts constitute a participatory medium with many degrees of freedom in terms of timing and content and can reach a potentially large audience.
In this talk, I will outline the reasons why more and more universities and institutes are starting to produce podcasts, but also where the opportunities and personal benefits of podcasting lie for individual researchers as well as for the society. We will look at what aspects should be considered when conceptualizing a communication strategy in the field of science podcasts. A central theme of the talk, which is frequently discussed both scientifically and in the podcast community, is that of gender differences with respect to producers. What reasons might there be that female and non-binary podcasters are significantly outnumbered? And how can we address this disparity? I will try to answer these questions by drawing on my own experience and exchanges with many other female podcasters.
Christiane Attig is an engineering psychologist at Chemnitz University of Technology, where she is currently in the final stages of her dissertation. Moreover, she works as a scientific coordinator of the CRC 1410 "Hybrid Societies". Science communication is a passion of hers, which she pursues both in her professional as well as private sphere through hosting and conceptualizing science podcasts and by teaching science communication skills for the National Institute for Science Communication (NaWik).
Katja Wolter (Steinbeis Institut): "My visibility as a scientific expert for recruiters on LinkedIn & ResearchGate"
The platforms LinkedIn and ResearchGate offer exciting opportunities for scientists to become visible as experts for their further professional path. When it comes to their own presentation on the Internet, the following questions arise for scientists. To what extent can I benefit from LinkedIN and ResearchGate as a scientist for my further career path? Which online platform can support me with my topics and my professional goals? This short workshop provides answers to the following questions:
What do I have to consider in order to be visible to recruiters? How do I get job offers?
Who and what can I reach via the social media channels?
What are the first steps for a digital profile on LinkedIn and ResearchGate?
Which keywords are important to me and how do I develop them in order to be visible as a scientific expert?
How do the platforms LinkedIn and ReserachGate work?
How can I use these platforms to increase my reputation and visibility?
This workshop supports doctoral candidates and postdocs in developing their profile as experts on a specific topic. I using specific keywords participants pf the workshop will learn to expand their range. This makes them more visible on the one hand in the scientific community and on the other hand for the job market and recruiters.
Katja Wolter M.A. studied Business Administration at the University of Applied Sciences Stralsund and John‐Moores‐University in Liverpool (England). She was working in Finance for an international Company in Frankfurt am Main, Consultant of the Administrative Director of Rundfunk Berlin Brandenburg (rbb), Director of Finance and Controlling at Deutsche Entertainment AG in Berlin and in a Project Management Organisation in the field of Biotechnology. Since 2013 she is Head of Steinbeis Research Center – Institute of Resource Development, Greifswald. Homepage of Katja Wolter: https://www.steinbeis-inre.de
Susanne Geu: "Tweet your science – Twitter in der Wissenschaft"
Twitter als Tool der Wissenschaftskommunikation entdecken und verstehen
Wie profitiere ich als Wissenschaftlerïn von Twitter?
ein gutes Twitter-Profil erstellen
Bedeutung und Nutzung von Hashtags und @-Erwähnungen
Wie formuliere ich wissenschaftliche Ergebnisse in 280 Zeichen?
Einsatz von Bildern, GIFs, Emojis und Umfragen
eigene Twitter-Themen finden
Zeitmanagement und Vorausplanung von Tweets
praktische Twitter-Übungen
Susanne Geu ist seit 2016 als Wissenschaftskommunikations-Coach und freie Autorin in Berlin selbstständig. Homepage von Susanne Geu: https://susannegeu.de