The Tech­no­graph: Buil­ding an instru­ment for visu­a­li­sing and analy­sing web archive data (2023)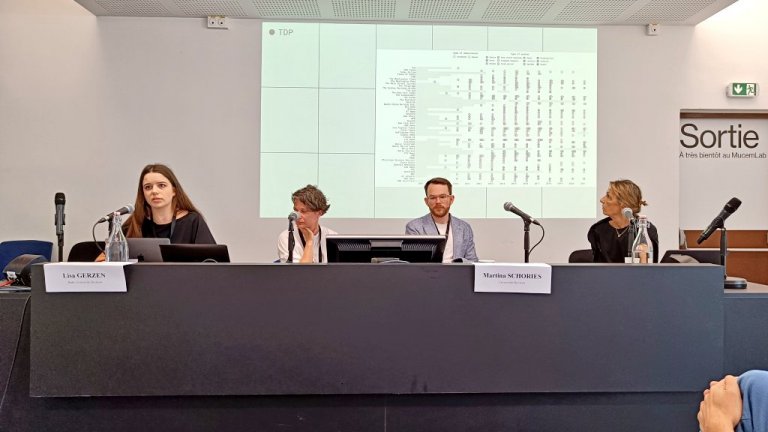 Vortrag
Presentation at RESAW Conference 2023, Marseille
Presentation at RESAW - A Research Infrastructure for the Study of Archived Web Materials in Marseille, France, 5-6 June, 2023.
This presentation will discuss the advances of the "Technograph", an instrument that the authors are developing for visualising and analysing web archive data. In particular, the Technograph functions as a visual interface on top of data from the Internet Archive Wayback Machine which has been collected in collaboration with the Internet Archive and the Archives Unleashed Project. It is being developed as part of a larger project called "Historical Technography of Online Commenting" which focuses on the interplay between historical commenting technologies and practices.
In this project, the historical web is considered part of a "technographic field", i.e. a field that is constituted or at least strongly co-constituted by its technologies. The points of departure for researching that field are, as a result, not – as in "ethnography" – an "ethnos" or its geographical place, but a technology, which is in this case: commenting technologies. Reconstructing the historical development and spread of commenting technologies across the web is thus only one part of this field.
This part of the technographic field may be reconstructed via large web archive data samples that the Technograph can help to explore. For example, gaps in the data visualised in the Technograph may lead the researcher to further explore certain time frames of some websites in the Wayback Machine, leading to new insights about the use of different commenting technologies on them. The other part of that field, however, is situated beyond the web archive and includes historical web actors, such as newspaper editors and community managers, who have been responsible for setting up and maintaining commenting technologies and commenting sections. The Technograph connects both parts of this technographic field: it connects 'quantitative' web archive data and 'qualitative' data from manual exploration of the Wayback Machine and interviews. As such, it helps to detect and map updates to the use and implementation of web technologies (such as commenting systems), and to deploy these found updates to structure subsequent interviews with web actors. Figure 1 shows the role of the Technograph app as being a central actor in developing a research approach that combines more qualitative and qualitative data and methods to examine historical practices related to web technologies.
The Technograph conveys the multiple layers of web archive data by visually showing i) the available and missing archive data within a specific timeframe, ii) the presence and absence of particular commenting systems in that timeframe, and ii) whether this presence was automatically or manually detected. As such, it functions as an instrument for reading into the data and to detect presences, absences, changes, or disruptions. These, in their turn, suggest the need for further qualitative inspection of the data or the need for further interviews.